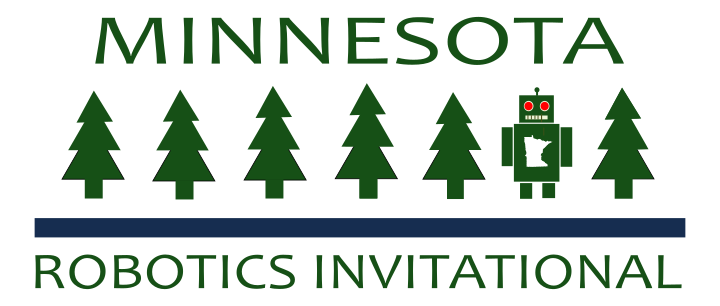 Welcome to the
2019 Minnesota Robotics Invitational!
October 12th, Roseville, MN
Mission
Location
Registration
Schedule
Rule Changes
Scholarships
Contact Us
---
Mission
The Minnesota Robotics Invitational (MRI) is an off-season FIRST Robotics Competition event, hosted in Roseville, MN. We have a real FIRST field, real FIRST electronics and a trained FTA to run the competition.
The mission of MRI is to host an enjoyable, high quality, and well-organized FIRST Robotics Competition event, bringing together teams from across the Minnesota FIRST community.
The MRI is a family-friendly event that is open for all of the public to attend. Competitors are invited to register by filling out an application to compete. The first 36 Minnesota teams with a paid registration will be the competitors.
---
Location
Roseville Area High School
1240 West County Road B2, Roseville, MN 55113
---
Registration
The 36 team field for the 2019 Minnesota Robotics Invitational has been filled. If you would like to be added to the waitlist, please fill out the form below. Waitlist registrations will be added to the list in the order of entry.
---
Schedule
Friday, October 11, 2019
3:00 PM Field setup begins
Saturday, October 12, 2019
7:00 AM Doors Open
8:15 AM Drivers Meeting on the field
8:30 AM Opening Ceremonies
8:45 AM Matches Begin
12:00 NOON Lunch Break
3:15 PM Qualification Matches End / Alliance Selection
3:45 PM Semi-Finals/Finals
4:45 PM Closing Ceremonies
7:00 PM Field is packed, event is over
---
Rule Changes
There will be some minor rules changes to the 2019 FRC game, FIRST Destination Deep Space.
Four teams will be on each alliance in the playoffs.
Alliance selection is 1-4, 1-4, 4-1.
Alliance captains cannot choose among themselves.  i.e. Number 1 Alliance captain cannot choose Number 2 alliance captain to join the Number 1 Alliance.
No extra backup teams are needed, since each alliance has its own backup. There is no requirement to play the backup team.
NO TIME OUTS! Since teams have a back-up, there are no time-outs in the finals.
Lower seeded alliance must declare robots first.
+5 pound weight allowance. All other first robot rules apply. Honor system.
For the purposes of training student drive team coaches, an experienced drive team coach will be allowed in the arena with a team's drive team during a match.
Additional gameplay rule changes will be announced closer to the competition.
---
Scholarships
Congratulations to 2018 MRI Scholarship Winners!
$1000 scholarship sponsored by Power/mation:
Anna Li from Team 2175, the Fighting Calculators who attends the Math and Science Academy.
$500 scholarship sponsored by The Roseville Visitors Association:
Emily Horwath from Team 2052, KnightKrawlers who attends Irondale High School.
$500 scholarship sponsored by The Roseville Visitors Association:
Alex Chatamarinh from Team 3883, Data Bits who attends Park High School.
$500 scholarship sponsored by The Roseville Visitors Association:
Parthiv Krishna from Team 3082, Chicken Bot Pie who attends Minnetonka High School.
Scholarship number and amounts will be updated as we get closer to the 2019 Minnesota Robotics Invitational. 
Scholarships will be awarded to 2020 high school graduates that will be attending college in the fall of 2020. Scholarship applicants must be a member of a team registered for the 2019 Minnesota Robotics Invitational and must also be attending the MRI.
The scholarship application will be available closer to the MRI and team contacts notified when the application is available.
---
Contact Us
MRI questions or to volunteer: arden@firebears.org